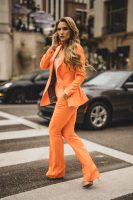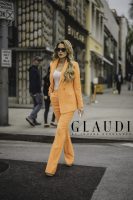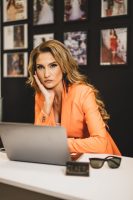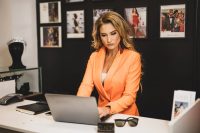 Resilient
Introducing our exclusive custom-made orange suit for women, designed to empower and inspire confidence in the world of business. Crafted to perfection, this suit comes with matching pants, tailored to your precise measurements and fit preferences. Custom lining and personalized embroideries inside.
But that's not all – we believe that resilience is key to success, which is why you have the opportunity to personalize the inside lining with a name or phrase that fuels your determination. Whether it's a motivational quote or a reminder of your goals, this unique feature will be your secret source of strength during every business endeavor.
Our commitment to customization knows no bounds. Choose from a spectrum of colors to find the perfect shade of orange that resonates with your style. Our experienced tailors will ensure that the fit is impeccable, adjusting every detail to match your preferences.
Elevate your professional wardrobe with this one-of-a-kind orange suit. It's not just clothing; it's a symbol of your resilience, determination, and the heights you're destined to achieve in the world of business.
Reviews
section description
Description
Pick a quantity
Pick a quantity:
Shipping Info
| | |
| --- | --- |
| Weight | Not specified. |
| Dimensions | Not specified. |